Aspirations for your career, relationships you want to build and the impact you want to have on your community all start with a strong support system...just like a building structure.
I am proud to work at Messer because of the core values that we follow. I am also proud of how we give back to our communities. We are a family and it shows.
With [younger employees], I try to instill in them to come to work every day, do your job and you could be here longer than me.
I feel included at Messer. No matter which Messer office or region I visit or work from, the staff are very welcoming to me and they include me and my family in all their activities and region events.
I am proud to work at Messer because of the quality of work we put in place. I know on Messer projects short cuts are not an option.
We are building opportunities
Culture, growth and mentorship experiences at Messer.
We are building better lives for each other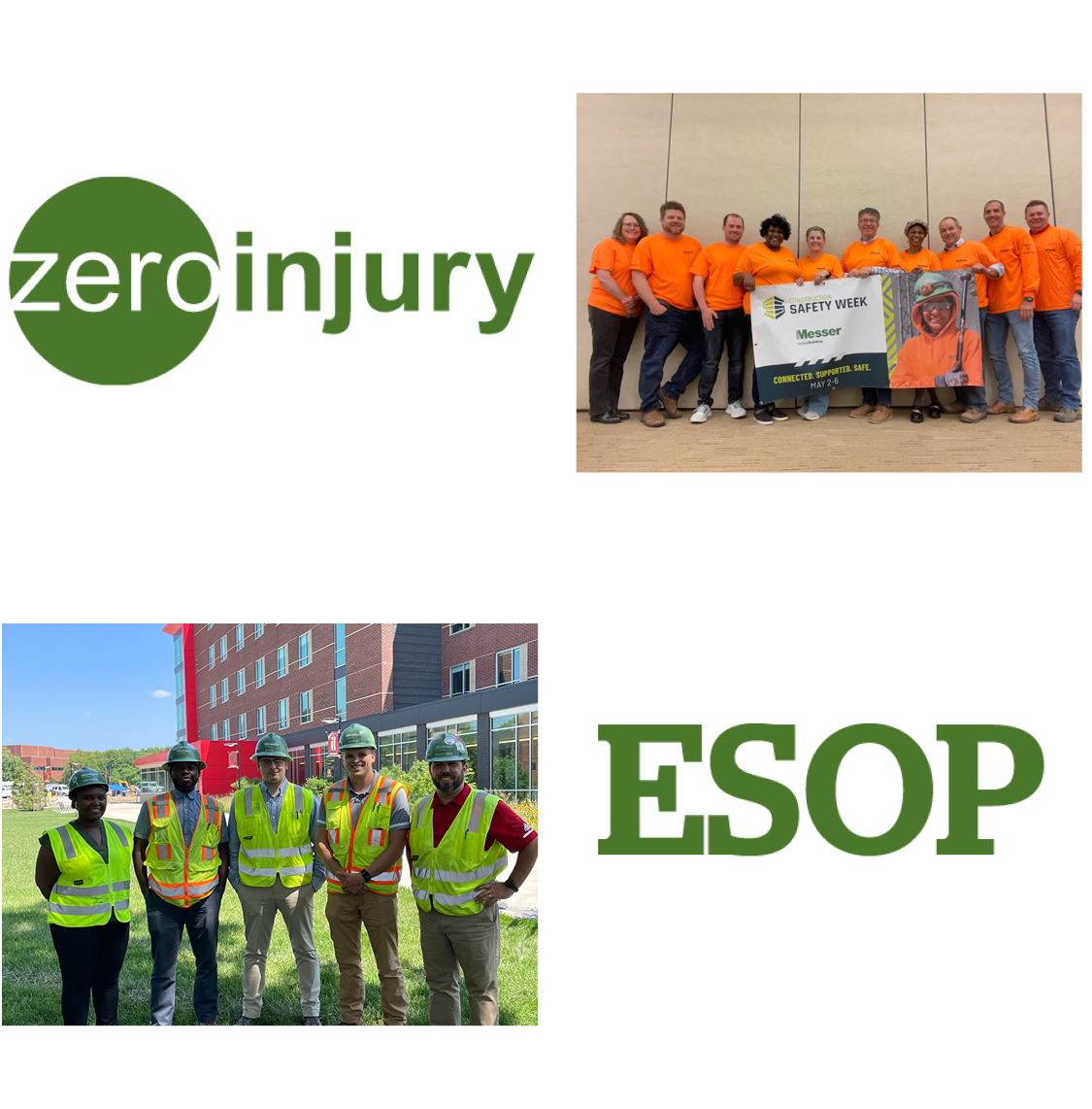 At work. At home. In the community. Safety is the #1 reason why we can consistently do what we do. Messer is proud to be named the 2021 AGC Construction Safety Excellence Award winner for the large building division. AGC represents more than 27,000 firms, including 6,500 of America's leading general contractors. When you join Messer, you are joining one of the safest construction firms in the nation.
Messer is not owned by a small group of people or a family. Instead, employees own the company through the power of the ESOP (Employe Stock Ownership Plan). 1990 marked the start of employee ownership for Messer with a courageous step by a few people that has since thrived for over 30 years. The company's success is tied to employees' success through engagement, growth and opportunities.
We are building diversity, equity and inclusion in construction
Diversity, equity and inclusion is not a phrase at Messer: it is action that is embraced starting at the top with our president and CEO to every office and region where we do business. Messer focuses on workforce diversity, supplier diversity and community engagement strategies to deliver long-term impact for minorities and women.
We are building craftsmanship
Messer's professional Craftforce includes carpenters, laborers and heavy equipment operators with a comprehensive understanding of safety requirements, materials and specs, and quality and cost control measures. The Craftforce brings its skill and talent to every project to safely construct dreams into reality. They do this for customers focused on delivering health and wellness, higher learning, housing, mixed-use space, culture and entertainment, and more to the neighborhoods and communities where team members live and work.
We are building our people
Messer employees grow by staying engaged in mentoring, coaching, training and networking. With Messer's strategic focus and employees' dedication, we see successful outcomes from opportunities like our co-ops and internships, Craft Leadership Development Program, Apprenticeship Programs, Urban Workforce Diversity Initiative (UWDI), Messer Women In Construction (MWIC), and the Diverse and Female Coaching Partnership Program. Other in-house programs focus on delivering best practices and innovation including Builders of the Future, Emerging Leadership Series, Advanced Leadership Series, and annual summits for our Craftforce and Operations teams: all geared toward subject matter experts coming together to learn from each other and help others grow.
We are building community impact
The Messer Foundation seeks to support organizations that advance the interests of society in the areas of economic inclusion, education, workforce development or environmental stewardship. Learn more in the guidelines and apply today. Applications are due March 28, 2023.
At Messer, community means being a partner to the people and organizations that surround us. It means supporting our clients not just through the construction of their projects, but also through their vision and commitment to the communities they serve. We celebrate the opportunities to give back through funding, time and talent; this includes our annual Messer Foundation Grant awarding up to four nonprofit organizations $25,000 each.
Nashville Young Professionals Ice Hockey Game

Making Strides Against Breast Cancer

Charlotte and Raleigh Whitewater Rafting

Cincinnati Craftforce Ballgame

Halloween Costume Contest

Urban Workforce Development Initiative (UWDI) 2022 graduates