Economic Inclusion Is a Core Messer Value
Achieving and encouraging diversity is pivotal for the present and the future.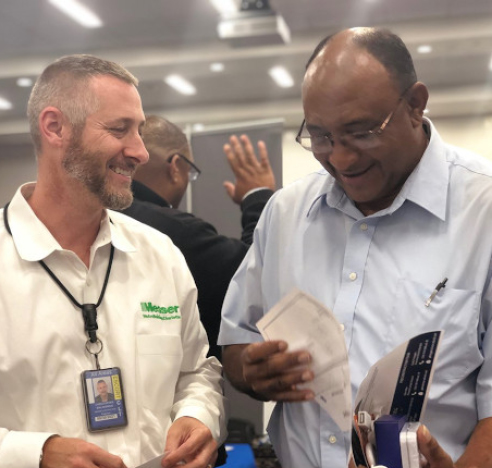 Home | Economic Inclusion
The commitment to diversity starts from the top
The Economic Inclusion Brochure provides details on Messer's supplier diversity, workforce diversity and community engagement strategies, as well as company-wide efforts, contacts, team awards and more.
Creating opportunities for diverse businesses, hiring a diverse workforce and investing in community partnerships makes our workforce and our neighborhoods stronger. 
Messer is hard at work creating sustainable change for all segments of our regional communities; examples include: 
Increasing total M/WBE spend from $35M (8.42%) in 2005 to $215M (16.9%) in 2021. Register your business today.

Investing in the economic success of diverse businesses by spending more than $1.6 billion dollars with M/WBEs since 2005.

Increasing diverse new hires by 200% since 2017. View all job postings.
"Messer is committed to leadership in creating economic opportunities for all segments of our regional communities. We believe sustainable change requires strategic relationships with minority-, women- and veteran-owned businesses and a commitment of our resources and capital. If we are to sustain growth and continue to compete in this ever-changing business environment, it is imperative that our supplier diversity initiatives continue to support and uplift diverse businesses within our communities."
- Tim Steigerwald, President and CEO
"Our commitment has produced national recognition, outstanding results, and a strengthened workforce and diverse supply chain that continues to create sustainable change in our communities. We must continue to work diligently to drive the power of economic inclusion throughout the company, on every Messer project and into our communities."
- Stan Williams, Vice President, Chief Inclusion and Diversity Officer
Supplier Diversity
Messer is committed to doing business with minority-, women- and veteran-owned firms. 
Workforce Diversity
We recruit and train the best diverse talent to drive innovative thinking.
Community Engagement
We are actively engaged in professional organizations that serve minorities and women. 
2021 Allied Construction Industries Construction Career Advancement Award

2020 Cincinnati Business Courier and the Cincinnati USA Regional Chamber CLIMB (Cincinnati Lifts Inclusion and Minority Business) Award "Partnering for Success" through the Uptown Workforce Development Initiative (UWDI)

2020 Professional Women's magazine Best of the Best Top Supplier Diversity Programs

2019 Ohio MSDC Advocate of the Year presented to Sonya Walton, Messer Economic Inclusion Vice President