Mentoring Is Part of Messer's Culture
January 25, 2023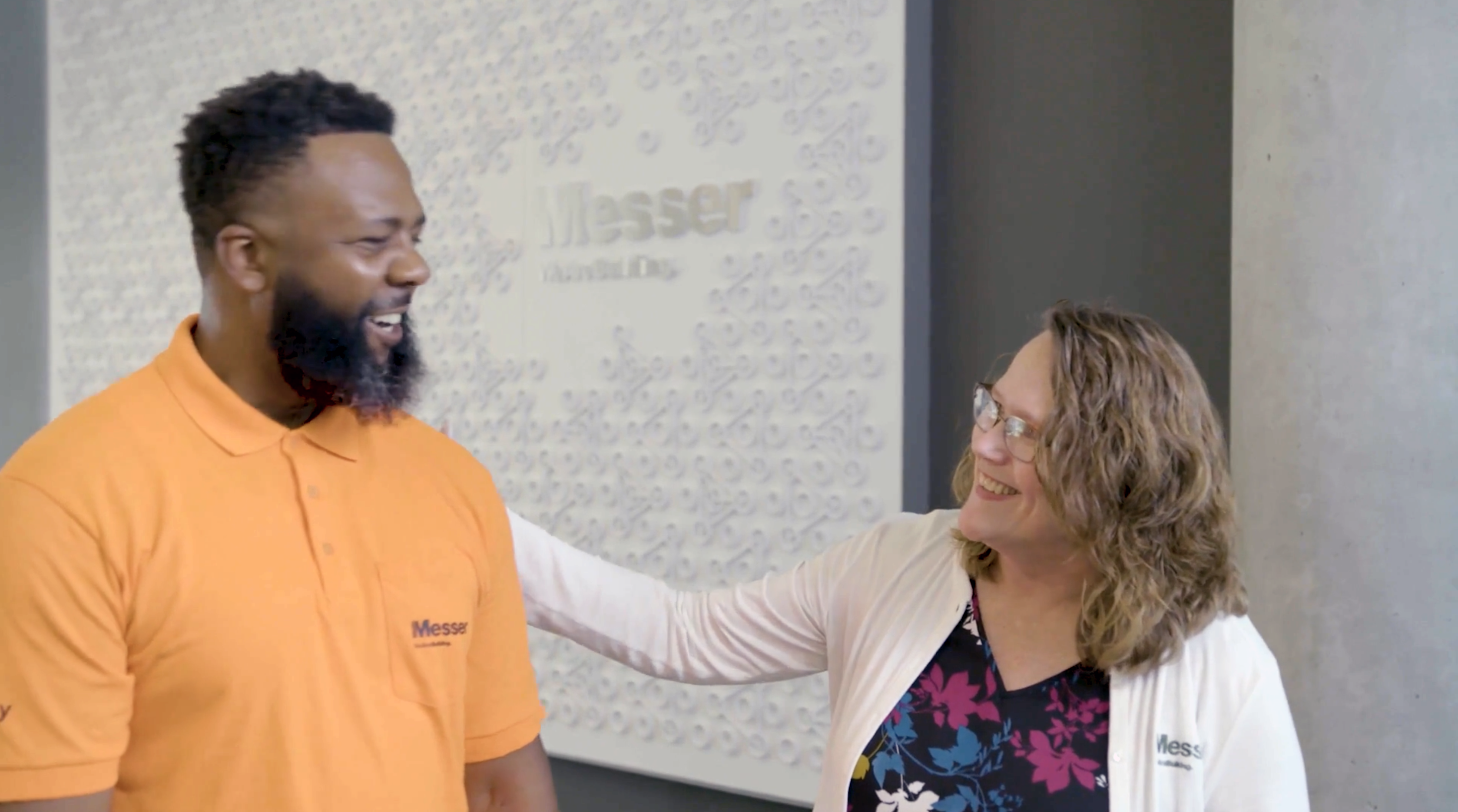 January is National Mentoring Month, and at Messer, coaching and mentorship are built into every day and across career paths. It's part of the company culture, through both formal programs and on-the-job sharing of expertise. Think of it as the "each other" part of Messer's purpose statement to "build better lives for our customers, communities and each other."
"You can't put a high enough value on direct mentorship," says General Superintendent Daniel Moore, who works in Louisville, Kentucky. "It's a key to everything we do at Messer and our growth."
Mentorship happens through Messer Women in Construction (MWIC) and the CraftforceDiversity Leadership Program, while other programs provide guidance and connection among our Superintendents, Co-ops and Safety teams; plus every member of our Craftforce is assigned a mentor. Employees are encouraged to take an active role in being a mentor and mentee, and the company celebrates the learning and professional development this process provides.
"I think mentorship is extremely important. There's someone to bounce your ideas off of," says Economic Inclusion Manager Natasha Moffitt, who works in the company's corporate office in the West End of Cincinnati. Some wise words shared with her that reflect the company's commitment to mentorship are: "Once you get to where you want to be, make sure you bring others along with you."
Our mentorship programs offer many benefits:
One-on-one

guidance

from

peers/leaders

Forming

workplace

connections

Learning

new ideas

Ability

to help others

Expanding

professional network

s
"Throughout my different roles within the company, I feel that those I've worked with have really poured into me to help develop and grow me," says Senior Virtual Construction Manager Elizabeth Hostetler, who started in the field in Lexington, Kentucky, and now works in the Columbus, Ohio, office.
The company's WeAreBuilding tagline doesn't just apply to physical buildings, but also to building company leaders.
"Building a building is fairly easy; we can develop a work schedule," says General Foreman Billy Curtis, who runs jobs in Nashville, Tennessee. "You've got to grow those people in order to build that building."
Heather Hayden started at the company right out of high school. Thanks to access to intentional coaching, as well as her dedication to continuing education, she is now a jobsite foreman in Cincinnati, Ohio.
"Having someone there who's got a couple of years of experience just makes a world of difference," Hayden says.
And learning is done at all levels; sometimes the mentee is teaching the mentor something new. "If your mentee can teach you something, then I think you must have been a good mentor yourself," says Matt Hicks, a Senior Company Foreman in Nashville.
"There's an abundance of opportunity at Messer," says Vice President Erin Thompson, who spent 25 years in Ohio and now leads Messer's operations in the Upstate of South Carolina. "If you have the energy, ambition, aptitude, drive and competitive spirit to be successful, there will be leadership opportunities for you to grow at Messer."
Lexington-based Project Executive Emily Edgington values the guidance she can give through the MWIC mentorship program.
"It's a great feeling when you've been mentoring someone, watching them grow andlearning to take on what you've been doing," she says. "When you hand over the reins, it's just great to see them running their own project and getting to their next promotion."
Adds Cincinnati-based Craftforce Development Executive Kim Garn: "Messer has 90 years' worth of foundation laid. To build on this great foundation we have, we must challenge ourselves every day to grow ourselves and not settle for where we are right now."
Learn more about what it's like to build with Messer: https://www.messer.com/culture/.